San Juan Capistrano, CA (PRWEB) November 12, 2014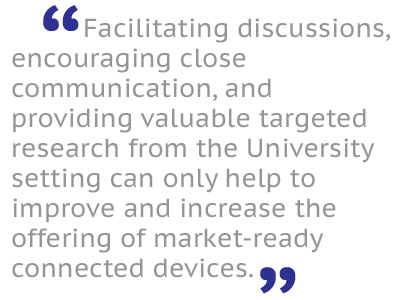 Smartenit Inc., a leading networking and connected home solutions provider, has been granted membership, at the Partner level, into the California Plug Load Research Center (CalPlug) at the University of California Irvine's (UCI) California Institute for Telecommunications and Information Technology (CalIT2).
CalPlug, committed to connecting companies on the cutting edge of many aspects of the Internet of Things (IoT), recognized Smartenit's efforts to continually expand IoT technologies through its wireless connectivity solutions supporting ZigBee, INSTEON, and WiFi protocols. The connected home is an important facet of the Internet of Things, and as a leader in that space, Smartenit is a natural fit into CalPlug's collaborative space.
"We are excited to welcome Smartenit into the CalPlug collective." says Professor G.P. Li, CalPlug's Director, "We believe their innovative and inclusive approach to the expansion of the Internet of Things will be a great asset to the research done here and they will be a valuable collaborator alongside our other member companies."
"We are honored and energized by the opportunity to work within and buttress the CalPlug framework." says Al Choperena, CEO of Smartenit, "The Internet of Things is a space that benefits greatly from the coordination, collaboration, and innovation offered by CalPlug. Facilitating discussions, encouraging close communication, and providing the valuable targeted research from the University setting can only help to improve and increase the offering of market-ready connected devices. We are excited to begin learning from and contributing to CalPlug's valuable work."
Smartenit®: Smarten Anything Wherever You Live Work and Play 
Smartenit, Inc. is dedicated to delivering automation solutions that continually expand the Internet of Things. These solutions have applications in many areas including energy management, water management, monitoring, comfort, and lighting, in the modern home and beyond. Smartenit's cost-effective, and easy-to-use products are part of an ever-expanding system that allows easy monitoring and management of any connected device from anywhere. For more information, visit: https://smartenit.com. Find Smartenit on Facebook and follow us on Twitter
ZigBee®: Control your world 
ZigBee offers green and global wireless standards connecting the widest range of devices to work together intelligently and help you control your world. The ZigBee Alliance is an open, non- profit association of approximately 400 organizations driving development of innovative, reliable and easy-to-use ZigBee standards. The Alliance promotes worldwide adoption of ZigBee as the leading wirelessly networked, sensing and control standard for use in consumer, commercial and industrial areas. For more information, visit: http://www.ZigBee.org.
CalPlug 
The California Plug Load Research Center was established at the University of California, Irvine in 2011 to improve energy efficiency in the use and design of plug-load devices. With funding support from the California Energy Commission and member companies, CalPlug focuses on energy efficiency solutions, efficiency evaluations of consumer electronics, standards development, education and public outreach, and user-behavior studies. For more information visit calplug.uci.edu.