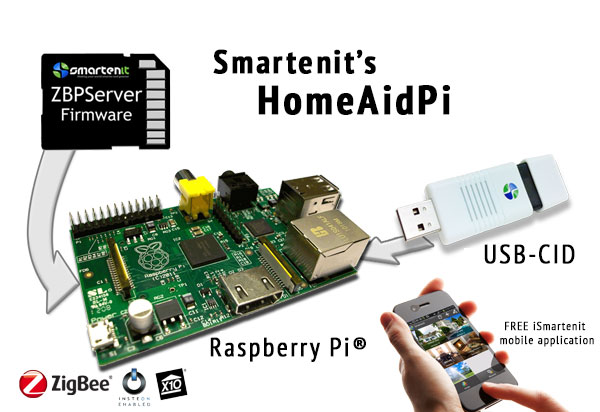 A powerful ZigBee, INSTEON, and X10 solution powered by Linux for home/ building automation
The Smartenit ZBPServer software is a scoop of home automation ice cream that turns your Raspberry Pi into a "HomAidPi", a full-fledged automation gateway that manages large home / building automation networks based on ZigBee, INSTEON and X10 protocols. You can savor it all the more because that ZBPServer scoop is FREE! Choose one of several USB automation interfaces available from Smartenit (USB-CID, ZBPLM, and EZIComm) and access a large ecosystem of automation devices that can affect your lighting, HVAC, irrigation, appliance control, energy management, water management, etc.
Check out our "How To" section below to see how to load the Smartenit software onto your RPi and cook up something special.
So grab your Raspberry Pi, compatible Smartenit controller automation interface, scoop on our ZBPServer and enjoy your powerful, inexpensive home automation gateway. We think you'll agree nothing tastes better than some HomAidPi!
Raspberry Pi is a Registered Trademark of the Raspberry Pi Foundation
Please note: you may use our ZBPServer firmware in your Raspberry Pi for non-commercial applications ONLY. If you wish to use for commercial applications, you must contact us to discuss licensing options.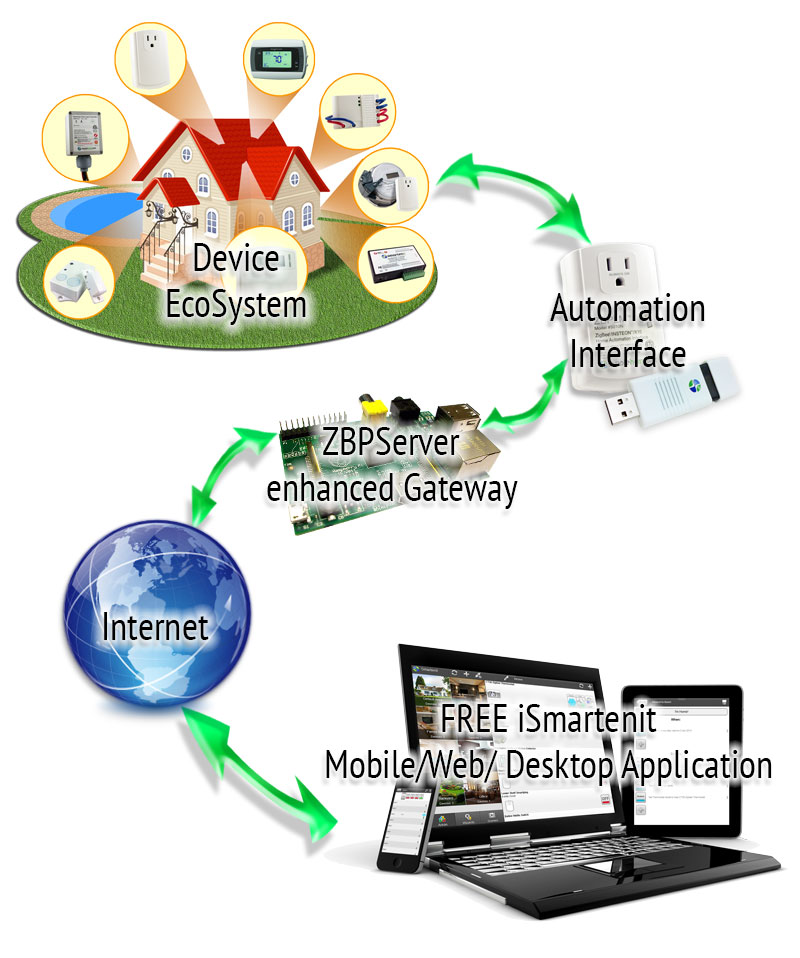 Smartenit App: A FREE application that works for Android and iOS mobile platforms, your browser, or your desktop. It is the interface with your controller, allowing you to monitor and control your network from anywhere. It's easy to set up flexible scheduling, receive alerts, and have devices influence each other through Wizards (When This happens, Do That) or Scenes (pre-determined setpoints for groups of devices).
ZBPServer Enhanced Gateway: Your Raspberry Pi, enabled by our ZBPServer firmware, allows you to connect with your ZigBee and/or INSTEON network via broadband. Access can be local or through the Internet. ZBPServer also contains a rules engine that makes the gateway a powerful and flexible automation controller.
Automation Interface: This physical connection to the automation devices (via RF or powerline) interfaces to the gateway via USB. The interface can be a singular device that handles all 3 protocols (like ZBPLM), or a dedicated device for ZigBee or INSTEON only (like USB-CID or EZICOMM).
Device EcoSystem: These are the wireless devices you have on your network that may include actuators and sensors for lighting, doors, windows, appliances, sprinklers, curtains, HVAC, fireplaces, pools, etc. . Compatibility with ZigBee, INSTEON, and X10 means these devices can be obtained from several manufacturers.
For the technically inclined:
Turn Linux into powerful home / building automation gateway
The ZBPServer software is Linux "middleware" that allows implementation and management of multiple automation networks. The server bridges the lower level (physical) interfaces to ZigBee, INSTEON and X10 networks, with the higher level user applications that are typically implemented as web, mobile or desktop clients. ZBPServer abstracts the physical differences of the various automation protocols into logical objects that simplify the client applications. By handling all aspects of monitoring and control of nodes, network management, automation event handling and scenes creation and management, the ZBPServer lets the client application concentrate on the graphical user interface.
ZBPServer handles all functionality needed in a typical automation application. Nodes, network, system, areas (places), actions and scenes objects are consistently exposed to the client applications regardless of the protocol, number of nodes, or the number of automation networks in use. A powerful rules engine (Actions) is also included that allows easy setup of automation events. Included drivers and protocol handlers support Smartenit's ZBPLM and USB-CID, and Smarthome's PLM (all versions).
Follow the steps below to turn your Raspberry Pi into a powerful home automation gateway (hub) equivalent to one of our Harmony gateways. It's as easy as pie! Simply get one of our available interfaces, load our ZBPServer software from our server, and presto! a Harmony gateway plus all the Raspberry Pi functionality.
Choose one of the following automation interfaces
USB-CID: Add ZigBee Pro with the Home Automation Profile control and monitoring to your Raspberry Pi with this ZigBee USB stick
ZBPLM: Add ZigBee Pro with the Home Automation Profile, INSTEON, and X10 control and monitoring to your Raspberry Pi with this PLM. Requires a USB to DB9 Serial port adaptor to connect.
EZIComm: Add INSTEON and X10 control and monitoring to your Raspberry Pi with this PLM. Requires a USB to DB9 Serial port adaptor to connect.
If you any one of these interfaces, then please attach it to your Raspberry Pi and continue to Installing the ZBPServer steps listed below
Install ZBPServer on your Raspberry Pi
Before taking the steps below, please ensure your ZigBee/INSTEON interface is installed (connected) to your Raspberry Pi
Step 1: Open an SSH Client and then add the Smartenit repository list:
pi@raspberrypi ~ $ echo "deb http://repo.smartenit.com/v3 raspbian/stable main" | sudo tee /etc/apt/sources.list.d/zbpserver-3.list
Please Note: If you are using the Raspbian minimal Debian Stretch then make sure to add the Jessie repo for installing the libssl1.0.0 package.
Here's how to check: pi@raspberrypi ~ $ sudo cat /etc/apt/sources.list If it shows only the stretch repo, then add the jessie repo with command below:
pi@raspberrypi ~ $ echo "deb http://raspbian.raspberrypi.org/raspbian/ jessie main contrib non-free rpi" | sudo tee --append /etc/apt/sources.list
Step 2: Install ZBPServer
pi@raspberrypi ~ $ sudo apt-get update && sudo apt-get install -y --force-yes zbpserver
Step 3: Check Status
pi@raspberrypi ~ $ sudo service zbpserver status
Expected output = active (running). 
Install App on your Phone
Now its time to start adding devices.  First make sure to install the Smartenit App from iOS App Store or Google Play App
After installing the App, create an Account and follow the instructions on the App.  To link the Raspberry Pi to your account, make sure the Raspberry Pi and the Phone/Table running the App are on the same network.
If you have any issues then please email us at support@smartenit.com